Sir Ambrose Elton, 9th Bt (1869-1951)
Charles Barrow Prescott (Wilmslow 1870 - London 1932)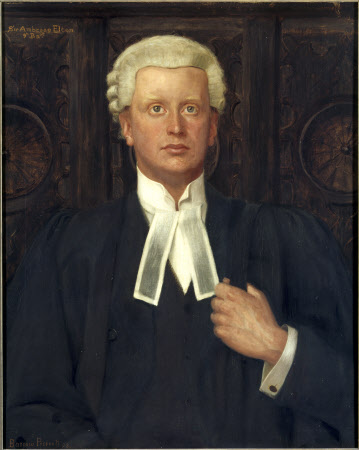 Summary
Oil painting on canvas, Sir Ambrose Elton, 9th Bt (1869-1951) by Charles Barrow Prescott (1870-1932), signed and dated 1891. Inscribed with name 'Sir Ambrose Elton, 9th Bart. A portrait of Sir Ambrose Elton, 9th Bt as a young man,dressed in barrister's wig and gown, half-length, facing, staring eyes, his left hand holding the collar (?) of his gown, wing-collar and tabs. Background composed of dark wood carved panelling.
Provenance
Purchased from Lady Margaret Ann Elton (1915 – 1995), 1981 with the help of grants from the V&A Purchase Fund and the NHMF
Marks and inscriptions
Top left: Inscribed: Sir Ambrose Elton / 9th Bart, Bottom left:: Signed and dated: Barrow Prescott 1891
Makers and roles
Charles Barrow Prescott (Wilmslow 1870 - London 1932), artist
References
Clevedon Court [The National Trust] revised 1972, 1974, 1977, 1979, pp.26-27: "....the Great Hall...On the opposite wall, on the left of the window, the ninth Baronet, Sir Ambrose, barrister, defends a client."
View more details