Salmon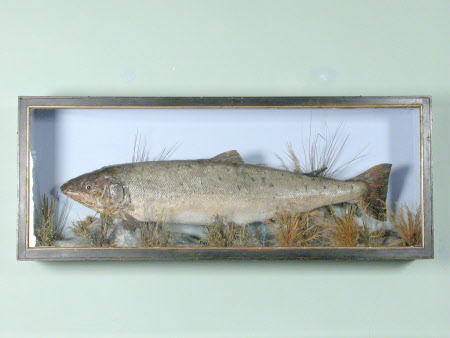 Category
Natural History / Taxidermy
Date
1912
Materials
Display case with taxidermy salmon
Measurements
645 mm (Width); 1630 mm (L)
Place of origin
England
Order this image
Collection
Attingham Park, Shropshire (Accredited Museum)
NT 609971
Caption
Attingham has a large estate and a large fish. The park and estate have always supported the house and its owners as it still does today. However in the past, land has been sold to clear the debts created from former extravagant spending to create large collections.
Summary
Taxidermy display case containing a stuffed salmon in a glass case with rocks and grasses. Caught in 1912. Despite the fact that it was never officially recorded, the Attingham salmon may be a challenger to the official British rod-caught record of the largest Atlantic salmon - a 64lb salmon caught by Georgina Ballantine, daughter of a head gillie, on the River Tay in Scotland on October 7th 1922. The Attingham salmon was probably about seven years old when caught, Article in The Times, Wednesday October 29th 1997, p.11. The fish had probably been to Greenland and back twice. It had spent two years in fresh water before migrating to sea as a smolt. It then spent four years at sea before it returned to the river to spawn. The salmon survived spawning and was making its second spawning run when caught where Thomas Allen was fly-fishing opposite Cound Lodge near Eyton Rocks on the River Severn (seven kilometres downstream of Atcham Bridge as the salmon swims). It took at least two and a half hours to get the salmon out of the river. It weighed 64 3/4 lbs when landed. It was taken to the taxidermist the next day and was weighed about 20 hours after it had died (at 63 and a half lbs, a slight reduction on its weight when caught). It was probably the largest salmon caught by rod on an English river in 1912.
Provenance
Caught by Thomas Allen in 1912 (d.1923), at the confluence of the Severn and Tern rivers, Shropshire. Thomas Allen's Housekeeper had ownership of the fish until her death in 1967. It passed into the ownership of Richard Adney's father and was then passed on to Richard Adney himself, a great nephew of Thomas Allen. Bought by the National Trust in 1998, from Richard Adney, a tenant farmer at Atcham, near Attingham Park.
View more details