Open armchair
attributed to Giocondo Albertolli (1742-1839)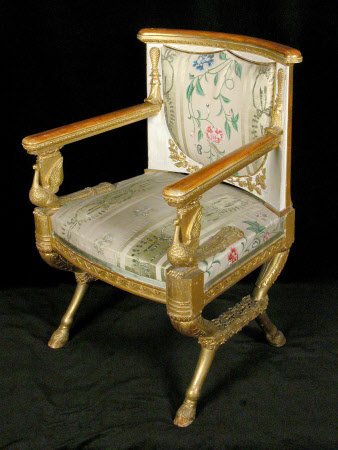 Category
Furniture
Date
circa 1814
Materials
Walnut, gold leaf, paint, silk
Measurements
86.5 x 59.0 x 50.0 cm
Place of origin
Genoa
Order this image
Collection
Attingham Park, Shropshire (Accredited Museum)
NT 608165
Summary
A carved and gilded walnut open armchair, probably Genoa, circa 1814, partly based on a design by Giocondo Albertolli (1742-1839), covered with painted silk, Italian, made before 1842, part of the same set as the daybed of Maria Teresa of Austria-Este, Queen of Sardinia (1773-1832), and contemporary with a sofa and another open armchair. With a slightly curving flat toprail, its under-edge egg-and-dart carved, above a shield-shaped silk-covered panel in a white-painted surround carved with gilt oak leaf sprays. The straight, broadening flat arms also with egg-and-dart carved under-edge, and raised to the front on supports formed from peacocks, the long tail feathers extending part-way over the seat. The seat rails carved with Vitruvian scrolls, reversing at the centre and incorporating buds of acanthus. Raised on end supports formed from pairs of deer or satyr legs, bent and bound together about the knee with a wreath of oak leaves and acorns, and terminating in cloven hooves. Covered with a silk with a broad gold stripe incorporating tied garlands, and painted in green, blue, red and pink with sprays of flowers on trailing stems.
Full description
The armchair was almost certainly acquired by William Noel-Hill, 3rd Baron Berwick (1773-1842), while ambassador to Italy. First, he represented George III at the exiled royal court of Sardinia at Cagliari, then in Turin, and finally Naples. The chair is en suite with a daybed with an identical frieze of Vitruvian scrolls, and is also contemporary with, a sofa, and another open armchair. For many years the daybed's cipher has been misread as CM rather than MT (The French and Italian T resembling an English C) and was therefore thought to be connected to Napoleon's sister, Princess Caroline Murat (1782-1839), rather than the more likely previous owner, Queen Maria Teresa of Sardinia (1773-1832). Berwick was ambassador to the court of Maria Teresa and her husband King Vittorio Emanuele I of Sardinia (1759-1824) from 1807 to 1824. The armchair on satyrs' legs is associated with a design by the Milan-based architect of Swiss origins, Giocondo Albertolli (1743-1839), a leading Neo-classical ornamental designer, notable for his work as an interior decorator in Milan (Palazzo Reale) and Florence (Palazzo Pitti) and for his volumes of engraved designs which were very influential. Albertolli drew numerous furnishings for the palaces of Maria Teresa's father, Archduke Ferdinand of Austria-Este, and in the event is very likely to have delivered the designs for this particular chair and the associated daybed. Indeed, as Martin Drury noted, 'The design [for the chair] can be attributed to the Italian Swiss, Giocondo Albertolli (1742-1839), who worked from 1775 in Milan on the royal palace and on the Villa Reale at Monza. Plate VI in his "Alcune Decorazione" (1787) shows a stool with legs very similar to those of the Attingam chair.' (Drury 1984, p. 43). Several examples of the stool, or sgabello, the design of which is inspired by the tripods of Roman Antiquity, survive at the Castello Sforzesco in Milan (attributed to a Lombardian workshop, dated c.1780; Collezione dei mobili del Museo delle Arti decorative del Castello Sforzesco). The Attingham chair was exhibited at Gallery Wildenstein's "Grand Tour Exhibition" in December 1982 (cat. no 61, fig. 66, p. 32). This armchair, the daybed, and the two other pieces of furniture which are thought to be contemporary with them (although not part of the same set) were made around 1814. The much larger collection of Italian furniture at Attingham was made in the 1820s to the surviving designs of Carlo Randoni (1755-1831) during the refurbishment of the Palazzo Tursi (Maria Teresa's residence in Genoa) in the 1820s. The 3rd Baron Berwick may have acquired the day-bed and this armchair around 1824, when Maria Teresa moved from Turin to Genoa, but it is possible that she took this armchair (and the daybed, sofa and related armchair) with her to furnish her new home. If this is the case, then he may have acquired this furniture after her death in 1832 and before his return to England – via Genoa – in 1833. The silk with which this chair (and several other pieces of Italian furniture at Attingham) is covered, is thought to be the 'rich China silk painted flowers' mentioned as in storage in the inventory taken at Attingham in 1842. It is Italian.
Provenance
Acquired by William Noel-Hill, 3rd Lord Berwick, who had been British ambassador to the courts of Sardinia (1807-1824) and Naples (1824-1832). By descent and bequeathed to the National Trust with the estate, house and contents of Attingham by Thomas Henry Noel-Hill, 8th Baron Berwick (1877-1947) on 15th May 1953.
Makers and roles
attributed to Giocondo Albertolli (1742-1839), designer
References
Drury, 1984: Martin Drury. "Italian furniture in National Trust houses." Furniture History, vol. XX, 1984., 43 Rowell & Burchard 2020: Christopher Rowell & Wolf Burchard, 'Italian Furniture at Attingham Park', Furniture History LVI (2020), 107-176, 112-4, Figure 7, 123, 152-3 (silk) Cornforth, 2004: John Cornforth, "In the taste of an ambassador." Country Life 10 Mar. 2004: pp.84-89 Beretti 2014: Giuseppe Beretti, 'Giocondi Albertolli Disegnatore di Mobili (1777-1822), http://laboratorioberetti.eu/ricerche/giocondo-albertolli-disegnatore-di-mobili-1777-1822/ consulted, August 2017 Sutton 1982: Denys Sutton (ed.), Souvenirs of the Grand Tour. A Loan exhibition from National Trust Collections in Aid of the Trust's Conservation Fund, exh. cat., Wildenstein & Co. Ltd., London 1982, cat. no. 61, p. 32 and fig. 66
View more details
Related articles