Sofa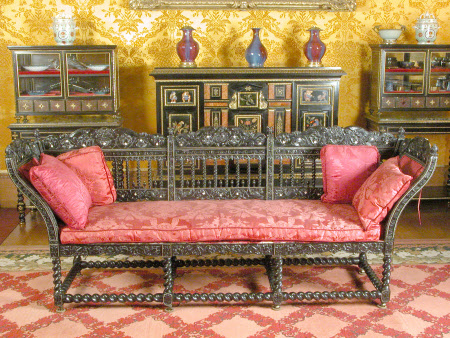 Summary
An Indian carved ebony sofa, Coromandel coast, circa 1700, inlaid with ivory, the back with top and low rails carved with flowers surmounted by double headed birds, between the two rails are twist-turned balusters, the outswept sides are padded, above a long rectangular seat with a squab covered in red silk, on twist-turned legs and castors, joined by stretchers. This sofa was acquired by George-Hammond Lucy in 1827. The mid-seventeenth century ebony furniture produced in the Coromandel coast of India was very fashionable in the early years of the nineteenth century, especially sets of carved ebony chairs. In the 1750s Horace Walpole (1717-1797) acquired many pieces of such carved furniture for his Gothic house of Strawberry Hill. He believed they were surviving examples of early English furniture. William Beckford (1760-1844) also had several examples of carved ebony chairs and cabinets at Fonthill Abbey. At Charlecote a few specimen can still be found (NT 533024.1-2; NT 533025; NT 533026).
Provenance
Presented to the National Trust by Sir Montgomerie Fairfax-Lucy (1896 – 1965), two years after the death of his father, Sir Henry Ramsay-Fairfax, 3rd Bt (1870 – 1944), with Charlecote Park and its chief contents, in 1946.
References
Jaffer 2001 : Amin Jaffer, Furniture from British India and Ceylon, a catalogue of the collection in the Victoria and Albert Museum and the Peabody Essex Museum, London, V&A publications, 2001.
View more details