Bracket clock
Stedman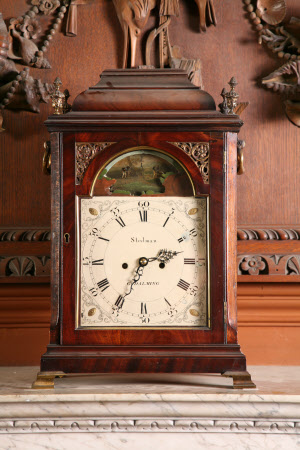 Caption
This clock is part of a very special collection bequeathed to the National Trust by Sir Francis Legh in 1984. By Stedman of Godalming, circa 1785, this is as eight-day striking spring clock with automated woodsmen chopping in the scene above the clock face. A beautiful piece to see and hear, this clock can be found in Lyme's Stag Parlour.
Summary
An eight-day English striking spring clock, circa 1785, with woodsmen automaton; in a mahogany case with silk-lined side frets, inverted bell-shaped top with four foliate urn finials and bracket feet.
Provenance
Bequeathed for display at Lyme Park by Major the Hon. Sir Francis Legh, on his death in 1984. Part of an important collection of clocks acquired by Major the Hon. Sir Francis Legh (1919-1984), the youngest son of the Third Lord Newton.
Marks and inscriptions
AWB H/58 (Repair mark, written in pencil inside)
Makers and roles
Stedman , clockmaker
View more details