Harmonium
Mason & Hamlin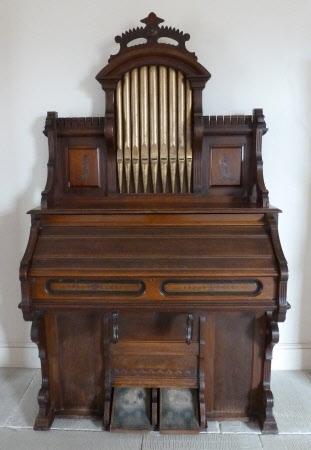 Summary
Mason & Hamlin wooden harmonium or reed organ with detachable top and nine wooden decorative pipes.
Provenance
Made by Mason & Hamlin in the late 19th century. It is unclear if the instrument was purchased for the Workhouse at this point or as late as 1916. There is reference to a harmonium being purchased from a Mrs Earle for £3 3 shillings in February 1884. This Mason & Hamlin harmonium was in use in the Committee Room in the 1930s. It was rescued from Greet House in 1980 by Mr John Howells. Donated as a gift to the Workhouse by Mr John Howells in May 2001. Research from the Guardians meeting minutes shows that: 16.06.1905 - The Master reported that (Mrs Earle's) harmonium was worn out 14.07.1905 - The harmonium was repaired at a cost of £1-5-0 11.2.1916 - A new organ was purchased at a cost of £8-7-6
Marks and inscriptions
Central panel above the stops: Mason & Hamlin Underside of keyboard lid: Style 447 No LC1751 Central panel above the stops: A series of medalions, four on each side of the panel. On the left "London 1886", "Paris 1878", Sweden 1878", "Phila.1876". On the right "Amsterdam 1883", Milan 1881", Vienna 1873", Paris 1867"
Makers and roles
Mason & Hamlin, maker
View more details