Petworth House from the Lake: Dewy Morning
Joseph Mallord William Turner, RA (London 1775 - Chelsea 1851)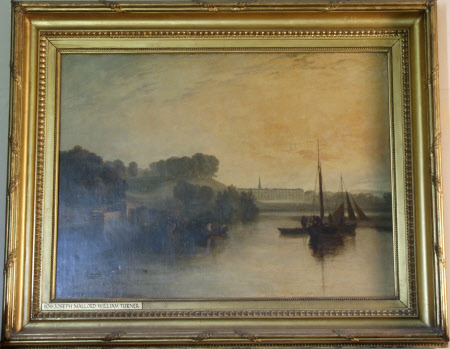 Caption
Turner exhibited this painting at the Royal Academy in 1810 with the subtitle 'Dewy Morning', a quality which is reflected in the mood and heightened atmosphere of the scene. This atmospheric interpretation of the scene is reminiscent of the work of the Dutch masters, whose work Turner studied. Turner was a regular visitor to Petworth House – seen here in the middle distance – and painted many scenes of the surrounding landscape. This particular example was commissioned by George Wyndham, the 3rd Earl of Egremont (1751-1837) around 1809.
Summary
Oil painting on canvas, Petworth House from the Lake: Dewy Morning by Joseph Mallord William Turner, RA (London 1775 - Chelsea 1851), circa 1810. A scene of Petworth House, from across the lake (TATE/(T03880). The lake is across the foreground with a stone terrace on the left bank and two figures in a skiff. In the centre right is a punt, two sailing boats and a skiff. In the left distance is the hill crowned with trees and with deer on the slopes. In the centre Petworth House can be seen with the church spire beyond.
Provenance
Commissioned from Turner by George Wyndham, 3rd Earl of Egremont (1751-1837) circa 1810. Thence by descent, until the death in 1952 of the 3rd Lord Leconfield, who had given Petworth to the National Trust in 1947, and whose nephew and heir, John Wyndham, 6th Lord Leconfield and 1st Lord Egremont (1920-72) arranged for the acceptance of the major portion of the collections at Petworth in lieu of death duties (the first ever such arrangement) in 1956 by H.M.Treasury.
Marks and inscriptions
J.M.W. Turner R A 1810
Makers and roles
Joseph Mallord William Turner, RA (London 1775 - Chelsea 1851), artist of original
References
Harris 1979 John Harris, The Artist and the Country House. A History of Country House and Garden View Painting in Britain 1540-1870, London 1979, no. 398
View more details