British Pugilist
John Charles Felix Rossi, RA (Nottingham 1762 – London 1839)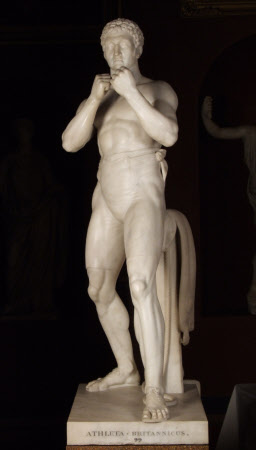 Caption
The identity of this muscular boxer with clenched fists is unknown. It could be Tom Cribb (1781-1848), a champion bare-knuckles boxer who retired in 1812 to become a coal merchant and later, a pub landlord. During the early 19th century, bare-knuckle boxing was a national obsession, viewed by political and cultural leaders as a rallying symbol for egalitarianism and patriotism. But Rossi's sculpture is not simply a portrait of a pugnacious prize fighter. Sculpted from a single piece of marble, this figure is steeped in the aesthetic ideals of antiquity. Thus the Latin inscription at the base of the sculpture: 'Athleta Britannicus' (British Athlete).
Summary
Marble sculpture, British Pugilist by John Charles Felix Rossi (1762-1839), 1828. Inscribed: ATHLETA BRITANNICUS (99). A full-length portrait of a British boxer with fists raised in front of him. It could possibly represent Tom Cribb (1781 Bristol - 1848 London), Champion boxer from 1810.
Provenance
Acquired by 3rd Earl of Egremont, thence by descent, until the death in 1952 of the 3rd Lord Leconfield, who had given Petworth to the National Trust in 1947, and whose nephew and heir, John Wyndham, 6th Lord Leconfield and 1st Lord Egremont (1920-72) arranged for the acceptance of the major portion of the collections at Petworth in lieu of death duties (the first ever such arrangement) in 1956 by H.M.Treasury.
Marks and inscriptions
Athleta Britannicus (carved on base)
Makers and roles
John Charles Felix Rossi, RA (Nottingham 1762 – London 1839), sculptor
View more details