Upton House from the South
Anthony Devis (Preston 1729 – Albury House, Surrey 1816)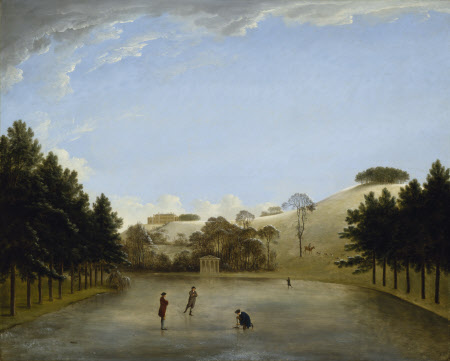 Caption
This view shows Upton House from across the valley on a winter's day. Temple Pool is frozen over and figures are seen skating on it. The house was built in 1695 with eighteenth-century additions. The vast neo-Georgian additions were made by Morley Horder in 1927-8. The steep hill now contains planted borders and a formal canal and the classical temple, built by Sanderson Miller, a local amateur architect who also designed the mock castle tower on Edgehill Ridge nearby, was moved to the other end. Upton was bought in 1757 by the banker Francis Child (1735-1763) as a hunting lodge and through whose great-niece it passed to the Earls of Jersey. He had already inherited Osterley Park (NT) of which there are two views (V&A) also by Anthony Devis, half-brother of the great conversation-piece portrait artist, Arthur Devis. Upton remained in that family until sold by the 7th Earl in 1894. Walter Samuel, 2nd Viscount Bearsted MC (1882 - 1948) acquired it in 1927.
Summary
Oil painting on canvas, Upton House from the South by Anthony Devis (Preston 1729 – Albury House, Surrey 1816), circa 1784. A winter's day with the house seen from across the valley; four men are skating on the lake in the foreground and a horseman accompanied by some hounds is riding in the park beyond; fir trees line either side of the lake and a small classical temple is at the far end.
Provenance
Sarah Jodrell, Mrs Robert Child, later Lady Ducie (c.1740-1793), widow of Robert Child, and later wife of Francis, 3rd Baron Ducie whom she married in 1791; thence by descent to her granddaughter, Lady Sarah Sophia Fane (1785- 1867), who in 1804 married George Villiers, 5th Earl of Jersey (1773-1859), and thence by descent; purchased by the National Trust at the Earl of Jersey's sale at Christie's, London, 15 July 1949, lot 132.
Credit line
Upton House, (National Trust)
Makers and roles
Anthony Devis (Preston 1729 – Albury House, Surrey 1816) , artist
References
Harris 1979 John Harris, The Artist and the Country House. A History of Country House and Garden View Painting in Britain 1540-1870, London 1979, no. 270
View more details