The Lion (for 'The Forest', a tapestry by Morris & Co.)
Philip Speakman Webb (Oxford 1831 - West Sussex 1915)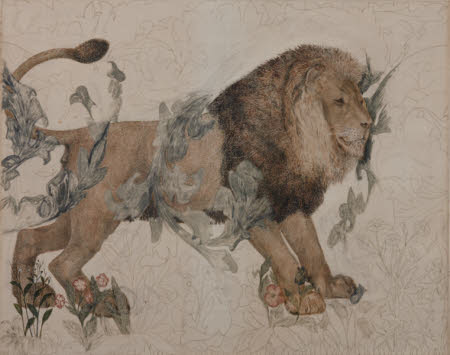 Caption
This picture of a lion was drawn by the architect and designer Philip Speakman Webb (1831-1915), a lifelong friend and associate of William Morris (1834-1896) who was responsible for much of the internal decoration at Wightwick Manor. The picture is one of a set of four that were preparatory studies for inclusion in a tapestry known as 'The Forest' that was designed by Morris and which can be seen at the Victoria and Albert Museum in London. The drawing was originally owned by the Hodson family who resided at Compton Hall which was next door to Wightwick Manor.
Summary
Watercolour and pencil on paper, The Lion by Philip Speakman Webb (Oxford 1831 - West Sussex 1915), 1886. A preparatory study (or cartoon) for a motif in the tapestry known as 'The Forest' designed by William Morris, Philip Webb and John Henry Dearle (1860-1932) in 1887 and woven by William Knight, John Martin and William Sleath at the Morris & Co. tapestry works at Merton Abbey, owned by Alexander 'Aleco' Ionides (1840-1898) at 1 Holland Park, in London where it hung in the study together with an acanthus-leaf panel and has been in the Victoria & Albert Museum, London since 1926. In the scrolls above the animals in the tapestry is a quotation from Morris's poem later published in 'Poems by the Way' (1891) - The Lion: The beasts that be in wood and waste / Now sit and see nor ride nor haste [widely, erroneously misquoted]. They wait for the prophetic future rather than look backwards to historical events. Gerard Manley Hopkins referred to Martin Luther as 'the beast of the waste wood' in The Wreck of the Deutschland (1876; not published until 1918). Both poets could have been alluding to the biblical Psalms 80:13 and Dante's Inferno. This drawing is one of a set of four (originally five) - see also National Trust inventory numbers 2900066.1, 2900066.2 and 2900066.3. A study of the peacock is also thought to have exsited and owned by Hodson but its whereabouts is unknown.
Provenance
Sydney Cockerell (1867 - 1962) in 1896; Laurence W. Hodson (1863-1915) after 1900 [to complement 4 others studies, including a peacock, he had already acquired] - exh at Morris centenary in 1934 at V&A; thence by descent at Compton Hall, near Wolverhampton; sold at Dreweatt Neate, Donnington Priory, 27 March 2013, lot 119; purchased by the National Trust from Stephen Ongpin Fine Art with the assistance of grants from the Art Fund, the V&A Purchase Grant Fund, the Monument Trust, the Mander Trust and a number of individual gifts, 2013.
Makers and roles
Philip Speakman Webb (Oxford 1831 - West Sussex 1915), artist
References
Gallagher 2014 Jane Gallagher, "Four Beautiful Beasts Philip Webb and the making of Morris's 'The Forest' tapestry" in arts building collections Bulletin, National Trust, winter 2013-14, pp. 1-4 at www.nationaltrust.org.uk/abcbulletin
View more details