Sacrifice to Diana
John Michael Rysbrack (Antwerp 1694 – London 1770)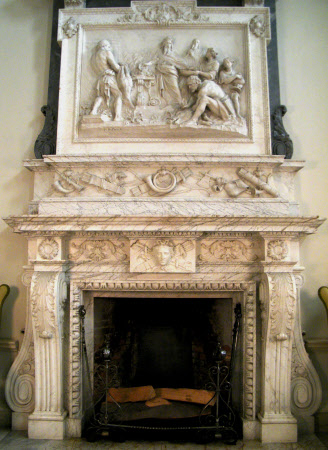 Category
Art / Sculpture
Date
circa 1729
Materials
Marble
Place of origin
England
Order this image
Collection
Clandon Park, Surrey
NT 1441589.1
Summary
Marble, Sacrifice to Diana, John Michael Rysbrack (Antwerp 1694–London 1770), c.1729, signed 'M. Rysbrack' on underside, bottom left. A marble relief in which a sacrifice is being made to Diana, the Roman goddess of the hunt, the moon, and nature. At left a calf hanging from a pole is carried towards the high priest by a strong man. The high priest wears ceremonial robes and a garland and is depicted pouring a libation into the sacred fire with his right hand and accepting an offering from a woman with his left. The surrounding figures at right include a priest in prayer, a woman holding an urn or amphora and a man with the sacrifice of a goat. A rotunda temple is visible in the background.
Full description
The relief is an adaptation of Xenophon sacrificing to Diana by Pietro da Cortona (1596/7-1669). Although Cortona's original painting is now lost, it is known through an original drawing, prints and painted copies (see Victoria and Albert Museum, London, DYCE.200; British Museum, London, 1868,0612.2264; and NT 719452, respectively). The marble relief is installed within the southern overmantel of Clandon Park's great Marble Hall. Dedicated to the hunt, the fireplace below the relief is carved with hunting paraphernalia such as horns, axes, quivers, and a central panel showing the goddess Diana's head surmounting her quiver and golden arrows. The relief forms a pair with NT 1441589.2 in which Rysbrack depicts a bull being sacrificed to Bacchus. This in turn is installed within the northern overmantel in the Marble Hall, illustrating the grape harvest, revelry, and gricultural plenty. Together, the overmantels express the hospitality of Lord Onslow (1649-1740), highlighting the virtues of Clandon as a venue for gentlemanly leisure, for sport, recreation and bucolic entertainment. Rysbrack produced a terracotta version of Sacrifice to Diana which is at Stourhead (NT 732916); see also a marble roundel of the same subject in the Royal Collection Trust (RCIN 71406). Alice Rylance-Watson January 2019
Provenance
Part of the listed building. Given to the National Trust in 1956 by Gwendolen, Countess of Iveagh.
Credit line
Clandon Park, The Onslow Collection (The National Trust)
Marks and inscriptions
Underside, left: M. Rysbrack
Makers and roles
John Michael Rysbrack (Antwerp 1694 – London 1770), sculptor
References
Kenworthy-Browne 1983: John Kenworthy-Browne, 'Rysbrack, "Hercules", and Pietro da Cortona', The Burlington Magazine, vol.125, no.961 (April 1983), p.216
View more details