Gambado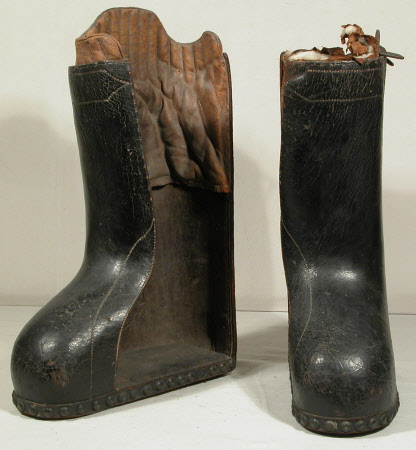 Category
Leatherwork
Date
1700 - 1800
Materials
Leather, wood, wool, iron and copper alloy.
Measurements
52 cm (H); 32 cm (Length)
Order this image
Collection
Snowshill Wade Costume Collection, Gloucestershire (Accredited Museum)
On show at
Not on show
NT 1350733.1
Summary
Boot - One of a pair of gambados in black leather with brown leather tops and part lining. The toe is rounded and the sole shaped over a thin covering of leather over wood. 2 buckles on a piece of leather is attached to the top of the leg at the side centre. There is a narrow strip of leather around the base of the leg fixed with brass studs. The leather sock ("sashoon")is padded. There is a back strap. The top section of brown leather is quilted and padded with lambs wool. Size 13 in. (male) The rear vertical edge of the opening is reinforced with an iron strip inside the leather – detected with magnet. Assume this is intact boot on left of image.
Provenance
Charles Paget Wade Collection, Snowshill Manor
View more details