Christ in Majesty
Morris, Marshall, Faulkner and Co. (Morris & Co.) (1861-1940)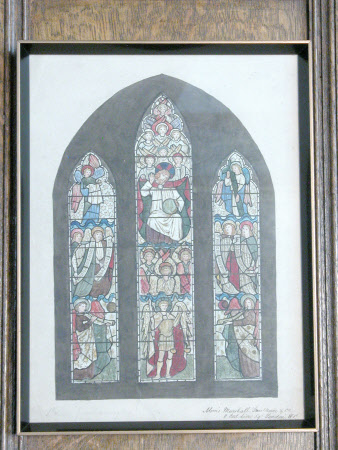 Summary
Watercolour and bodycolour, Christ in Majesty, Morris, Marshall, Faulkner and Co.(Morris & Co.) (1861-1940) after Dante Gabriel Rossetti (London 1828 - Birchington 1882) & possibly Sir Edward Coley Burne-Jones (Birmingham 1833 - London 1898), circa 1864, inscribed in pencil "1st design for Manningham". A stained glass window design for 'Christ in Majesty', for St Paul's, Manningham, Bradford. Pointed arched window of triple lancet design.
Provenance
Transferred to the National Trust on the death of Sir Geoffrey Le Mesurier Mander (1882-1962)
Marks and inscriptions
Something illegible in pencil.
Makers and roles
Morris, Marshall, Faulkner and Co. (Morris & Co.) (1861-1940), Organisation Sir Edward Coley Burne-Jones (Birmingham 1833 - London 1898) , artist Dante Gabriel Rossetti (London 1828 - Birchington 1882), artist
References
Sewter 1975 A.C. Sewter, The Stained Glass of William Morris and his Circle, 1975 , p. 29
View more details