Euphemia 'Effie' Chalmers Gray, Mrs John Ruskin, later Lady Millais (1828-1898)
George Frederic Watts, OM, RA (London 1817 - Compton 1904)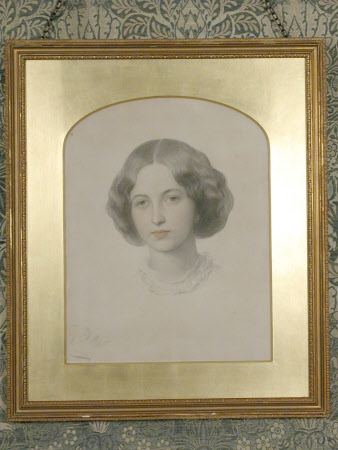 Summary
Black and red chalk drawing on paper, Euphemia Chalmers Gray, Effie Ruskin, later Lady Millais (1828-1898), signed with monogram, 1851. A head-and-shoulders portrait of Effie, dark hair fixed at nape of neck, looking out of picture.
Full description
G.F. Watts is probably best known for his large paintings of grand historical and mythological subjects such as Love and Death, but as this superb drawing shows he was also a fine portraitist. His 'Hall of Fame' series of famous contemporaries such as William Morris is in the National Portrait Gallery collection. In a letter to her mother of 4 April 1851 Effie mentions sitting for this picture: "Mr. Watts is finishing my portrait as I write and I am giving him a look now and then." She describes it in a letter of 14 April as "a masterly drawing" and "a grand sketch in chalks the size of life". Ruskin's father paid Watts forty guineas for it. Euphemia Chalmers Gray (1828-97) was the eldest child of George Gray, a Scottish lawyer, and Sophia Jameson, of Bowerswell, Perthshire. The Grays and the Ruskins were acquainted through business and other connections, and Effie met John Ruskin (1819-1900) for the first time when she stayed with them in 1840. During her stay in 1846 Ruskin fell in love with her. His parents for a time opposed any attachment between them, but in autumn 1847 Ruskin and Effie became engaged. They were married on 10 April 1848. She was beautiful, lively, and witty, and enjoyed the fashionable society Ruskin's fame opened to her, but the marriage was increasingly unhappy.In March 1853 Effie posed for the head of the Jacobite's wife in Millais' The Order of Release (Tate Gallery). In the summer Millais travelled to Scotland with the Ruskins, staying at Brig o' Turk in the Trossachs for nearly four months. (see Millais The Foxgloves: Effie Ruskin WIG/ P/ 1). There he began work on his famous full-length portrait of Ruskin standing on a rock in the stream at Glenfinlas. During the Scottish stay Effie and Millais fell in love. On 25 April 1854 she left Ruskin, and on 15 July 1854 Effie obtained an annulment of the marriage on the grounds of non-consummation.On 3 July 1855 Effie married Millais; the first of their eight children was born in 1856. She assisted him both with his work and his success in high society.
Provenance
John Everett Millais; John Ruskin.
Marks and inscriptions
Note signed letter attached to back from Clare Stuart Wortley.
Makers and roles
George Frederic Watts, OM, RA (London 1817 - Compton 1904), artist
References
James 1947 W. James The Order of Release 1947, p.167 and ill. frontispiece Lutyens 1965 Mary Lutyens, Effie in Venice, 1965, p. 172, ill. p.195 Lutyens 1967 Mary Lutyens, Millais and the Ruskins, 1967, p. 38 Lutyens 1968 Mary Lutyens, 'Portraits of Effie' in Apollo LXXXVII, 1968, p. 190, ill. fig. 4
View more details