A Roman man, possibly Mark Antony (Marcus Antonius)
Ptolemaic dynasty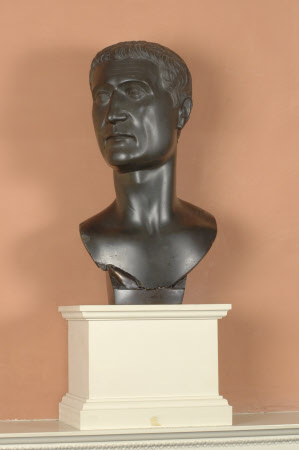 Summary
Black-green basalt or possibly basanite on marble pedestal, a male bust, possibly Mark Antony (c.83-30BC), late 1st century BC-early 1st century AD. A bust of a Roman man mounted on a marble pedestal. The truncation and ears are chipped.
Full description
The bust is believed to have been discovered in Canopus, near the Egyptian city of Alexandria, in around 1780. It then entered the collection of George Baldwin (1744-1826), a British merchant, consul and arabist who established trade links on behalf of the East India Company across Egypt and the Red Sea. The bust is listed in Baldwin's Museum, a book of sixty lithographs privately published by Baldwin showing highlights from his collection of cameos and busts. Baldwin catalogued it as a portrait of Emperor Augustus (63 BC-AD 14), 'Conqueror of Egypt'. The bust is also listed as Augustus in the Society of Dilettanti publication, Specimens of Antient Sculpture (vol.II), and is illustrated in an engraving by Scriven after Pistrucci. Baldwin's collection was sold at Christie's, London, on 8 and 9 May 1828. The bust was purchased for 95 guineas at that sale by the noted explorer and Egyptologist William John Bankes (1786-1855) of Kingston Lacy. Basalt or basanite, types hard black-green volcanic stone, are typical materials in Egyptian sculpture. The idealized style of this bust is Hellenistic indicating that it was produced by Greek sculptors working in Alexandria around the late 1st century BC and early imperial period (Spier 2018, p.197). The hair and facial features have led scholars to suggest that the bust may in fact be a posthumous bust of Octavian's great adversary Mark Antony, who attempted to rule Egypt as prince-consort with Cleopatra VII but was defeated by Octavian and committed suicide in 30 BC. Octavian was then crowned Augustus, first Emperor of Rome. This alternative identification is based on portraits in cameos and gems, however surviving statues thought to depict Antony share no similarities with the present bust. The bust was probably originally part of a herm (Spier 2018, p.197). Alice Rylance-Watson January 2019
Provenance
An undated letter of the 1840s, possibly written by Lady Falmouth (Bankes papers) states that the bust was found at Canopus in the Delta of Egypt, in about 1780, and entered in the collection of George Baldwin (1743 - 1826), the British Consul in Egypt (1785-1796); William Bankes (1786-1855) acquired it at auction 8/9 May 1828 (95 guineas); and thence by descent; bequeathed by (Henry John) Ralph Bankes (1902 – 1981) to the National Trust, together with the estates of Corfe Castle and Kingston Lacy and its entire contents.
Credit line
Kingston Lacy, The Bankes Collection (National Trust)
Makers and roles
Ptolemaic dynasty , sculptor
Exhibition history
The Treasure Houses of Britain, National Gallery of Art, Washington, USA, 1985 - 1986, no.246
References
Baldwin [1810?]: George Baldwin, [Baldwin's Museum. 60 lithographs of gems by T. Bouvier, with lithographic letter-press.], [1810?], no page no., under entry for 'Octavius Augustus, Bust on Basalte, big as life Jackson-Stops, 1985: Gervase Jackson-Stops, ed., The Treasure Houses of Britain: five hundred years of private patronage and art collecting, exh. cat. The National Gallery of Art, Washington, New Haven and London 1985, p.321 no.246 Knight 1809: Richard Payne Knight (ed.), Specimens of Antient Sculpture, I, London (Society of Dilettanti), 1809 [1810], vol.II, plate XLVI Spier 2018: Jeffrey Spier, Timothy Potts and Sara E. Cole (eds.), Beyond the Nile: Egypt and the Classical World (exh. cat.), Los Angeles: The J. Paul Getty Museum, 2018., p.197, no.139
View more details