Candelabra
Green and Ward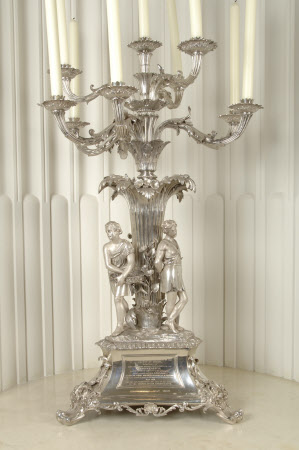 Caption
Henry Bankes was MP for Dorset from 1826 to 1831 as a stubborn independent Tory, an opponent of the American War of Independence and friend of the younger Pitt and the Duke of Wellington.
Summary
George IV candelabra centre piece, the triform base with scroll feet emerging from floral scroll work and supporting three free standing figures with matt finish, one with a basket, one leaning on a spade and the third holding a sickle, sprays of columbine and corn between them. Springing from the centre, a foliate cone of palmette form continuing upwards to form ten leafy scroll branches for lights. The base engraved on three sides.
Provenance
According to inscription; To Henry Bankes Esq., from a large body of the Freeholders in the county of Dorset in testimony of their gratitude, respect and esteem for his independence and for his steady adherence to the principles which recommended to their choice as one of their representatives in parliament for the noble stand he made in support of the constitution in May 1831 and for his promptitude and zeal on all occasions in the service of his constituents.
Marks and inscriptions
(presentation see below)
Makers and roles
Green and Ward , silversmith
View more details