Half-tester bed
Vicenzo Favenza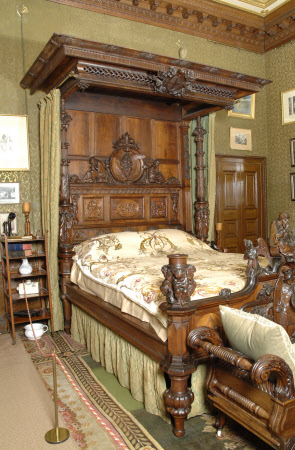 Category
Furniture
Date
circa 1855
Materials
Holly and walnut
Measurements
292 x 270 x 209 cm
Place of origin
Italy
Order this image
Collection
Kingston Lacy Estate, Dorset (Accredited Museum)
NT 1254586.1
Summary
A walnut, holly and sycamore half tester bedstead by Vincenzo Favenza, (Italian fl.1850-60) circa 1855. With carved reliefs some of them deriving from Antique or Baroque sources. The headboard is carved in relief with Venus, Cupid and Putti, surmounted by a winged figure of Motherhood. Also bats along the headboard. The foot-end is similarly carved with a figure of Silence flanked by Angels, above a Guardian Angel with a shield, inscribed; 'CUSTODIT'. The half tester, supported on caryatids and reeded columns, is carved with the Bankes' coat-of-arms and bats.
Full description
The bed was commissioned by William Bankes in the early 1850s. The work was unfinished when William Bankes (F2) died in 1855 and in October of that year Favenza was protesting vigorously to the Bankes' heirs demanding compensation for taking away his commission. It is unknown what exactly is missing. Was a full-tester foreseen? Did William want to lie in state in the bed? Mr. Malcolm's correspondence with William's brother George reveals the latter's reluctance in settling William's affairs; 'It is a great inconvenience to me to have to look after all these artists, and it is quite impossible for me to dedicate sufficient time to superintend the proper carrying out and finishing these works of Art'. In August 1855 Mr Malcolm wrote to George Bankes; '... I cannot but say that if it is carried out as intended it would be throwing away money and I believe your brother was fully aware of the mistake in design and taste'. And the following October Mr. Malcolm wrote; 'The only thing of any importance on hand, which is not in a forward state, is the Bed; I have been trying to stop this, as your son wrote to me such to be your desire, at first the party had exorbitant ideas, but I have brought him to reduce his demand to 100 Napoleons. 80, to give all up as it is, and renounce all claims, my candid opinion is that you had better thus get rid of it, have it all packed up and sent off; but you must just do in this as you may judge best'. It had not arrived by 1860 when the inventory was made on the death of Edmund George Bankes, George's son. This inventory still refers to this room as the 'North Parlour'. It arrived in the unfinished state as is on display.
Provenance
Commissioned by William Bankes in the early 1850s from Vincenzo Favenza, Italy. Bequest of the estates of Corfe Castle and Kingston Lacy made to the National Trust by Henry John Ralph Bankes (1902-1981). NT ownership commenced from 19th August 1982.
Makers and roles
Vicenzo Favenza, wood carver
View more details