View of the towers and bridge, Prague (after Auguste Mathieu)
Louis-Pierre-Alphonse Bichebois (Paris 1801 - Paris 1850), Michel-Charles Fichot (1817-1903) and Adolphe-Jean-Baptiste Bayot (Alessandria 1810 - 1866)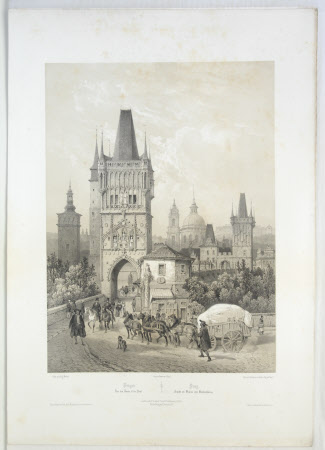 Category
Art / Prints
Date
Unknown
Materials
Paper
Measurements
570 mm (H)400 mm (W)
Place of origin
Berners Street
Order this image
Collection
Kingston Lacy Estate, Dorset (Accredited Museum)
On show at
Not on show
NT 1253799.3
Summary
Print, lithograph, View of the towers and bridge, Prague (after Auguste Mathieu) by Louis-Pierre-Alphonse Bichebois (Paris 1801 - Paris 1850), Michel-Charles Fichot (1817-1903) and Adolphe-Jean-Baptiste Bayot (Alessandria 1810 - 1866). From a painting by Auguste Mathieu. Editors H. Jeannin, and Goupil and Vibert. Published by E. Gambart, Junin and Co.
Marks and inscriptions
London. Publ. by Gambart, Junin and Co, 25 Berners St.
Makers and roles
Louis-Pierre-Alphonse Bichebois (Paris 1801 - Paris 1850), Michel-Charles Fichot (1817-1903) and Adolphe-Jean-Baptiste Bayot (Alessandria 1810 - 1866) , engravers Michel Charles Fichot (1817-1903) , engraver Louis-Pierre-Alphonse Bichebois (Paris 1801 - Paris 1850), artist (with Fichot) Adolphe-Jean-Baptiste Bayot (Alessandria 1810 - 1866) , engraver Auguste Mathieu (Dijon 1810 - Paris 1864), artist of the original (painting) Gambart, Junin and Co., engraver and publisher Goupil and Vibert, editor H. Jeannin, editor
View more details