Roger Palmer, 1st Earl of Castelmaine (1634 - 1705), and his Secretary
attributed to Sebastiano Bombelli (Udine 1635 – Udine 1719)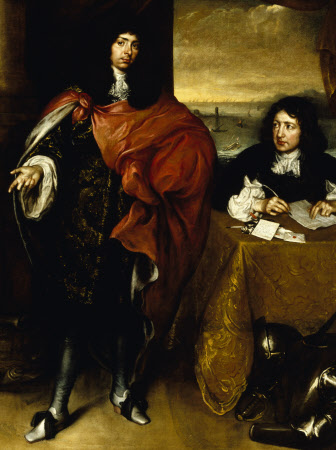 Caption
Roger Palmer, 1st Earl of Castlemaine, was the grandson of the 1st Lord Powis. He was married to Barbara Villiers, Duchess of Cleveland, who was famously a mistress of Charles II and mothered five of the king's children. After separating from his wife in 1662, Roger travelled in France and Italy. By 1664 he was in the Levant, serving as an officer in the fleet of the Venetian Republic, commanded by Admiral Andrea Cornaro. It was at this time that his portrait was painted (an inscription on the canvas reads 'An: Do. 1664 Venetia'). It is thought to have been produced by Venice's leading portrait painter at the time, Sebastiano Bombelli.
Summary
Oil painting on canvas, Roger Palmer, 1st Earl of Castelmaine (1634 - 1705) and his Secretary, attributed to Sebastiano Bombelli (Udine 1635 – Udine 1719), inscribed (bottom right): An:Do/ 1664/ Venetia; on folded letter: To/ the Hon.ble/ Wiliam Herbert/Earl of Powis]. Full-length portraits, of the Earl of Castelamaine (created Earl by Charles II in 1661), standing on left, gesturing with his right hand. His secretary is seated at a table with a brocaded tablecloth and a seascape can be seen behind him, on the right, writing a letter with a quill pen and with folded letters one of which is inscribed making a reference to William Herbert (1626-1696), created Earl of Powis in 1674. In front of the table lies a suit of armour and a sword. Pentimenti round this figure's head and jabot; further pentimenti in area of tablecloth bottom centre and above armour bottom right and round feet of Castlemaine.
Full description
History is rarely kind to cuckolds, particularly when they appear to have connived at their own cuckoldry. Roger Palmer, Earl of Castlemaine (1634-1705; created 1661), has however been fortunate, in that his adulterous wife, Barbara Villiers (c.1641-1709), only daughter of William 2nd Viscount Grandison, is better known under the title she received as a discharge for her ten years as mistress to Charles I: Duchess of Cleveland; whilst he is remembered - if at all - as the man whose lavish but futile embassy to Pope Innocent XI in 1685/6-7 was sumptuously commemorated by his Chief Steward, [John] Michael Wright, in An Account of His Excellence Roger Earl of Castlemaine's Embassy (1688). It was almost inevitable that, regardless or in ignorance of the date on the present portrait and of the sitter's obvious youth, it should have come to be regarded as a portrait of Castlemaine with and by J.M.Wright, but the painter was not with the Irish peer on his first Italian journey, nor ever his secretary, and the portrait is clearly not the work of a British artist - nor even the work of an artist operating in Britain. What is not yet clear is whether the name given to the secretary when this picture first became known through its inclusion in the National Portrait Exhibition in 1866, Nicholas Wright, represents a garbling of the painter's name, or a record of the secretary's true identity. Castlemaine had become a Roman Catholic in 16--, and following his dispute with his wife and the King over their having their first male bastard, Charles Fitzroy (later Duke of Southampton) rebaptised as an Anglican, went abroad in 1662 or 1663. From 15 April-20 October 1664 he accompanied Generalissimo Andrea Cornaro's expedition to the Levant, but saw no action (see his An Account of the present War between the Venetians & Turk; with The State of Candie: (in a Letter to the King from Venice), 1666, pp. 83-4). From the place and date inscribed on the picture, and from the background scene, it would appear to be that expedition that is alluded to, and it may even be his very letter to the King that he is seen dictating. To determine the actual artist of the picture is not entirely straightforward. In Venice in 1664 the aging Nicolò Renieri (Regnier), Gerolamo Forabosco, and Daniele van den Dyck, were all capable of turning their hand to portraiture, whilst Giulio Cirello was producing portraits in Padua. Sebastiano Bombelli, as Sandrart reveals - 'there was scarcely any great man living within reach, or who visited Venice from abroad, whose likeness was not painted by Bombelli' (Academia Picturae Eruditiae [1683], ed. A.R.Peltzer, Munich, 1925, p.376) - was to achieve such fame as a painter of portraits in Venice that he was also to be invited to paint them at courts both in Italy and north of the Alps; but he had only arrived in the city around 1660, and was certainly absent from it in 1663, and possibly for some time afterwards . His more modest first datable portrait is that of Benedetto Mangilli, of 1665 ; whilst the portrait of his that appears to have the most in common in both handling and approach with this, that of The Avogadori Pietro Garzoni & Francesco Benzon , was apparently not painted until 1683-4. Nonetheless, it is only Bombelli who would seem to have been capable of painting the present portrait, which, in its somewhat gauche interweaving of so many different strands, is very much a young man's picture: the inclusion of the secretary was clearly suggested by Titian's portrait of Georges d'Armagnac with Guillaume Philandrier - which Bombelli presumably knew from a copy, since the original had been in England since 1624; the dramatic treatment by the portraits that G.B. Carbone must have painted during his sojourn in Venice in the 1650s; the standing pose by the portraits by Sustermans that Bombelli is believed to have studied in Florence; and the virtuoso rendition of the heap of glinting armour, of the brocades of the tablecloth and vest, and of the distant view, by his desire to show his varied skills. The Earl of Castlemaine will have been the more alert to the virtuosity of the artist, in that his father, Sir James Palmer of Dorney Court, had been an amateur limner, collector, adviser to Charles I on his collection, and a governor of the Mortlake tapestry works. Castlemaine himself is said to have been given the Wilton diptych by James II, in reward for his embassy to Rome - though it too seems more likely to have been acquired by his father in some exchange with Charles I. His mother was a daughter of the 1st Baron Powis, grandfather of the addressee of the letter on the table; and he spent some of his latter years as part of the household of these fellow-recusants. He had no offspring, so it is probable that he either bequeathed or (in view of the inscription on the letter) gave this picture to his cousins. Notes: (i) see Aldo Rizzi in Mostra del Bombelli e del Carneo, Udine, Chiesa di S.Francesco, 1964, esp. pp. xxxiv-vii; do., in Dizionario Biografico degli Italiani, vol. xi [1969], s.v., pp.381-2l; Rodolfo Pallucchini, La Pittura Veneziana del Seicento, 1981, vol. i, pp.305-9, & vol. ii, figs. 1035-50). (ii) exh. cat. cit., no. 1; Pallucchini, 1981, fig. 1035. (iii) Venice, Pal. Ducale; cf. Nicola Ivanoff, 'I ritratti dell' Avogaria', Arte Veneta, viii [1954], pp. 276-8. (iv) see Michael Jaffé, 'The Picture of the Secretary of Titian', Burlington Magazine, March 1966, pp. 114-27. (adapted from author's version/pre-publication, Alastair Laing, In Trust for the Nation, exh. cat., 1995)
Provenance
Either given by the sitter to his cousin, William Herbert, 3rd Earl, Marquess and Duke of Powis (c.1626 - 1696), or bequeathed to the latter's son, William Herbert, 2nd Marquess of Powis (c.1665 - 1745); by descent at Powis (apparently first recorded in 1886). Accepted by HM Treasury on 21st March, 1963 in lieu of tax and conveyed to National Trust ownership in 1992.
Makers and roles
attributed to Sebastiano Bombelli (Udine 1635 – Udine 1719), artist
Exhibition history
In Trust for the Nation, National Gallery, London, 1995 - 1996, no.5
References
First Special Exhibition of National Portraits, Ending with the Reign of King James II (exh cat) South Kensington Museum, London, 16 April - 18 August, 1866, no.1015 Collins Baker 1912 C. H. Collins Baker, Lely and the Stuart Portrait Painters, London, 1912, vol.I, p.194 Steegman 1957 John Steegman, A Survey of Portraits in Welsh Houses, Vol.I: North Wales, Cardiff, 1957, vol.I, p 264, no.24 The Age of Charles II (exh cat) Royal Academy, London, 10 December 1960 - 26 February 1961, no.77 In Trust for the Nation: Paintings from National Trust Houses (exh cat) (Alastair Laing) The National Gallery, London, 22 November 1995 - 10 March 1996, no.5 Chu 2018 John Chu, House of Portraits: Powis Castle, Swindon, 2018, pp.18-19
View more details