'The Powis Castle giltwood seat furniture'
attributed to Ince and Mayhew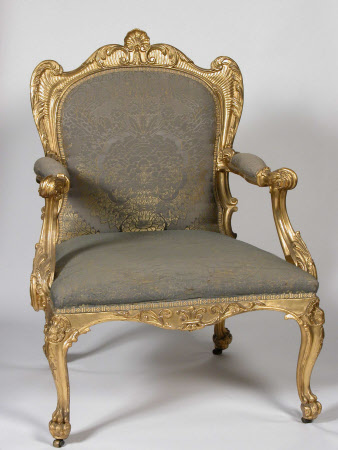 Category
Furniture
Date
circa 1776
Materials
Giltwood, gesso, beech, mahogany, textile, brass castors
Measurements
107 cm (H); 74 cm (W); 70 cm (D)
Place of origin
London
Order this image
Collection
Powis Castle and Garden, Powys (Accredited Museum)
NT 1181048.2
Summary
An open armchair from a set of nine pieces of gilt wood and gilt gesso seat furniture, attributed to John Mayhew & William Ince (fl.1758-1804) London, circa 1776.Comprising a sofa, a pair of open armchairs and six side chairs. All carved with scrolling floral decoration and surmounted by a shell crest, raised on cabriole legs, lion's paw feet and castors. Upholstered in a blue and gold floral silk brocade 'Memlinc' pattern designed by George Frederick Bodley and made by Watts and Co. circa 1905.
Full description
The partnership of Mayhew and Ince was one of the most significant and longest established firms of cabinet makers in the 18th century. Mayhew was initially apprenticed to a Bradshaw (probably William Bradshaw, of Soho Sq.), Ince to John West of Covent Garden, see British & Irish Furniture Makers Online for further research and discussion. The design of the Powis seat furniture follows plate LV of The Universal System for Household Furniture, published by them in 1762. A similar example includes the set of seat furniture supplied in the 1780s for Chirk Castle, Wrexham. Two chairs are now in the collection of the Art Institute of Chicago, USA. Another pair of chairs from the set were sold by Frank Partridge Ltd. See: Hussey 'Chirk Castle, Denbighshire, - IV', Country Life, 12 October 1951, p. 1149, fig. 4. (James Weedon, March 2019)
Provenance
This suite of giltwood furniture was probably commissioned by Clive of India, who altered and furnished his London home in Berkeley Square in 1766-7. Until 1937 the suite was in 45 Berkeley Square, London. Recorded in the 1944 Inventory as 'A carved gilt suite of Louis XIV design on cabriole legs and claw feet in blue and old gold floral silk brocade of :- A 6ft shaped back open arm settee' in Tapestry Drawing Room (Blue Drawing Room). Part of the indigenous collection of Powis Castle accepted in part satisfaction of the Estate duty after the death of the Right Honourable George Charles, 4th Earl of Powis, on 9th November 1952. The contract of the 'Offer of Property in Satisfaction of Estate Duty under the National Land Fund Scheme' was completed on 21st March 1963. Conveyed to National Trust ownership in 1992.
Makers and roles
attributed to Ince and Mayhew, cabinet maker and furniture designer
References
Ince, William & Mahew, John 'The universal system of household furniture' Published in parts, 1759–63 Hussey, 1951: Christopher Hussey, "Chirk Castle, Denbighshire. IV" Country Life 12 Oct. 1951: pp.1148-51. Dictionary of British and Irish furniture makers online (1660-1840) FHS 2017
View more details