Lady Anne Somerset, Lady Howard (1631-1662)
John Michael Wright (London 1617 - London 1694)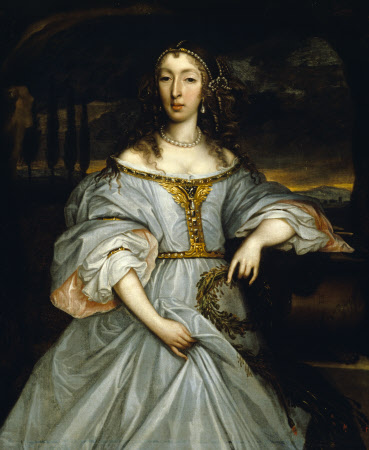 Caption
The identity of this sitter in this portrait has been the subject of some discussion, though the theme of 'death' is certain. The cypress trees in the background were often used to symbolise death and the afterlife; the wreath held by the sitter contains flowers that are visibly dying; and the large stone edifice she leans on appears to be a tomb. One theory is that this is a portrait of Lady Elizabeth Somerset, mourning the loss of her sister Anne, who died in 1662. There is a clear resemblance with John Michael Wright's later portrait of Elizabeth at Powis (NT 1180901). However, there is an even stronger similarity with a portrait of Anne, also by Wright, at Arundel Castle. This suggests, perhaps, that this is in fact a posthumous portrait of Lady Anne Howard, painted as a memorial.
Summary
Oil painting on canvas, Lady Anne Somerset, Lady Howard (1631-1662) by John Michael Wright (London 1617 - London 1694), circa 1652. A three-quarter-length portrait of a lady, in blue dress, shown mourining over a tomb, a wreath in her left hand. The funerary symbolism was thought to mean that this was a posthumous portrait of Lady Anne, or it has been readable as an indication that is is really an earlier portrait of Lady Elizabeth Herbert, shown mourning over her sister's tomb. Lady Anne Somerset married Henry Howard, later 6th Duke of Norfolk in 1652.
Provenance
Accepted by HM Treasury on 21st March, 1963 in lieu of tax and conveyed to National Trust ownership on 29th November 1963.
Credit line
Powis Castle, The Powis Collection (National Trust)
Makers and roles
John Michael Wright (London 1617 - London 1694), artist of original
References
Piper, 1956: David Piper, Petre Family Portraits, Chelmsford, 1956, p. 17, under no. 40 Steegman 1957 John Steegman, A Survey of Portraits in Welsh Houses Vol.I: North Wales, Cardiff 1957, p. 264, no.29
View more details