Tapestry
John Vanderbank the elder (fl. 1682 - d. 1717)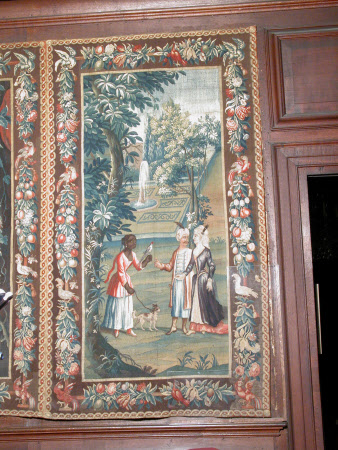 Category
Tapestries
Date
1720
Materials
Tapestry and wool
Measurements
2350 x 1390 mm
Place of origin
Soho
Order this image
Collection
Erddig, Wrexham (Accredited Museum)
NT 1151840.3
Caption
Commissioned by Erddig's owner, John Meller, this tapestry of four parts was completed and delivered in 1720. Made for the ground floor 'Best Bedchamber' of Meller's layout of Erddig, the tapestries were subsequently relocated to their current home when the first floor State Bedroom became the master bedroom. Meller had entrusted the task of having the tapestries transported to Erddig from London to his nephew Simon Yorke. So impressed was Meller with Yorke's attention to detail and efficiency that Yorke was named heir to the estate when Meller died childless in 1733, beginning the Yorke family's responsibility for the estate which lasted until 1973. The tapestries, detailing exotic scenes, show figures eating and playing music and are thought to have been made by John Vanderbank the Elder at his Soho workshop.
Summary
Tapestry. One of a set of three early Eighteenth century English tapestries, from Soho, possibly by the workshop of John Vanderbank, c.1720. They show scenes with figures, some in turquerie, in gardens. The borders are woven with garlands of fruit and flowers and with parrots, cockatoos and other birds. There are narrow, enchained, outer borders. All the colours are unusually well preserved. This tapestry is an upright panel and shows from left to right, a black woman holding a hawk and with a dog on a lead, and a white man and woman in an approximation of eighteenth century Turkish dress, highly fashionable in northern Europe during this period. A formal garden with a fountain and parterres is in the middle distance. This tapestry was originally a separate piece of work. It was joined with another tapestry in probably about 1770 when the Best Bedchamber moved to the first floor.
Provenance
Given by Philip Yorke III (1905-1978) along with the estate, house and contents to the National Trust in 1973.
Makers and roles
John Vanderbank the elder (fl. 1682 - d. 1717), maker
View more details