Lucretia with Chasteti and Liberaliter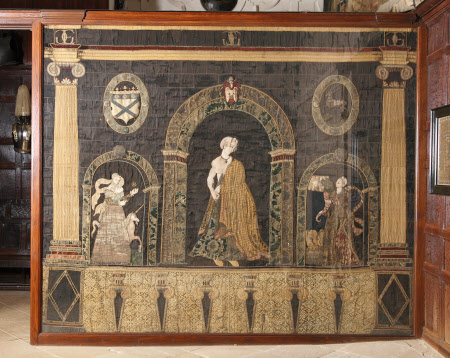 Category
Textiles
Date
Unknown
Materials
Linen ground with applied Silk velvet and gold cloth.
Measurements
2770 mm (Width); 3400 mm (Length)
Order this image
Collection
Hardwick Hall, Derbyshire (Accredited Museum)
On show at
Not on show
NT 1129593.2
Summary
Large appliqued needlework wall hanging - Lucretia with Chasteti and Liberaliter. Made of silk and cloth of gold. The Great Hangings are fully documented in The Embroideries at Hardwick Hall, a catalogue by Santina M. Levey, published by The National Trust. One of four surviving noble women hangings, all have the same design of a central archway flanked by two smaller archways containing female figures who personify the virtues that the central female figure embodies. The archways stand on a podium with two large pillars either side, above the pillars is an entablature In this hanging the central figure is Lucrecia, flanked by the figures of Chasteti on the left and Liberalitet on the right. Above the figure of Chasteti is an oval medallion containing a shield bearing the Hardwick arms surmounted by a coronet for Elizabeth Hardwick, Countess of Shrewsbury. In the medallion above the figure of Liberaliter is the Hardwick stag. The hanging is constructed from a linen ground onto which various fabrics have been applied to form the design. The figures and decorative elements such as the archways and pillars have been worked onto separate linen grounds and then applied to the hanging. The applied fabrics are rich brocades with metal threads, cloth of gold and silver, and silk velvets. The background is a black silk, originally a black and yellow striped velvet, the pile is now completely worn away, with cream cords stitched over it to represent brickwork.
Marks and inscriptions
Lucretia/Chasteti/Liberaliter
View more details