Untitled
John Linnell (London 1729 - 1796)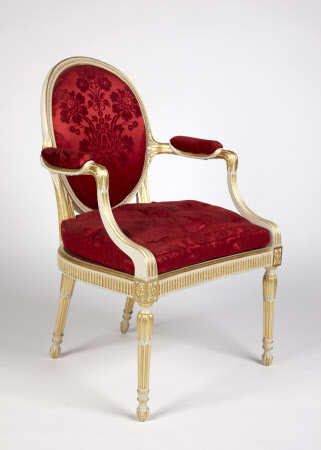 Summary
A set of twenty four pieces of painted, parcel gilt beech and cane seat furniture, comprising of sixteen open armchairs and eight settees, made and supplied by John Linnell (London 1729-1796) and probably designed by Robert Adam (London 1728–1792). The set was commissioned for the Saloon at Kedleston by Nathaniel Curzon, 1st Baron Scarsdale.Each armchair with an oval padded back and beaded moulded frame with down swept fluted arms with padded elbow rests, the cane seat with fluted rail raised on leaf carved and fluted turned legs, loose seat cushion. The sofas of conforming design but are slightly curved so as to stand on the wall of the circular Saloon and have triple cane panel backs.Fifteen of the sixteen chairs and all eight of the sofas have been re-painted, one chair is left in original condition, the upholstery has been replaced on all the chairs and sofas.
Full description
See: Hayward, Helena & Kirkham, Pat ' William and John Linnell, eighteenth century London furniture makers' for further discussion and extensive research on the Kedleston furniture from the Linnell workshops.The sixteen oval back armchairs and the eight settees all with cane seats were supplied for the Saloon. This was the last state room to undergo alterations and although originally Lord Scarsdale's sculpture was to stand on pedestals in the niches Adam redesigned using cast iron vases to disguise central heating and the chairs and settees with gently concave seat rails were provided to stand against the walls.James Weedon (May 2018)
Provenance
Commissioned by Nataniel Curzon 1st Baron Scarsdale, probably designed by Robert Adam and made by John Linnell. Curzon Collection acquired by gift as part of the transfer of Kedleston Hall to The National Trust in 1986.
Marks and inscriptions
HONI SOIT QUI MAL Y PENSE (mark, painted, side of seat, text within garter device)
Makers and roles
John Linnell (London 1729 - 1796), cabinet maker Robert Adam (Kirkcaldy 1728 - London 1792), architect
References
Hayward and Kirkham, 1980: Helena Hayward and Pat Kirkham. William and John Linnell, eighteenth century London furniture makers. London: Studio Vista in association with Christie's, 1980. Dictionary of British and Irish furniture makers online (1660-1840) FHS 2017
View more details