Such is Chippendale's reputation, and such is the prestige that his name conveys, that a great deal of furniture has been optimistically attributed to him.
The National Trust's inventory of approximately 55,000 pieces of furniture has not escaped this tendency. The online inventory is based on the previous card index system, which was built up by a host of non-specialist contributors over many years.  
As of June 2018, a search for 'Chippendale' in the 'Furniture' category on National Trust Collections returns approximately 1,000 results, but the true figure of furniture (and other goods) documented as having been made in Chippendale's workshops  is probably closer to 500. The majority of the additional, wrongly attributed items are chairs, of which Chippendale was a prolific designer. Documented chairs by him, such as those at Nostell Priory and Osterley, are notable for the immensely high quality of the carving and craftsmanship, which sets them apart from chairs made by lesser furniture makers after Chippendale's designs.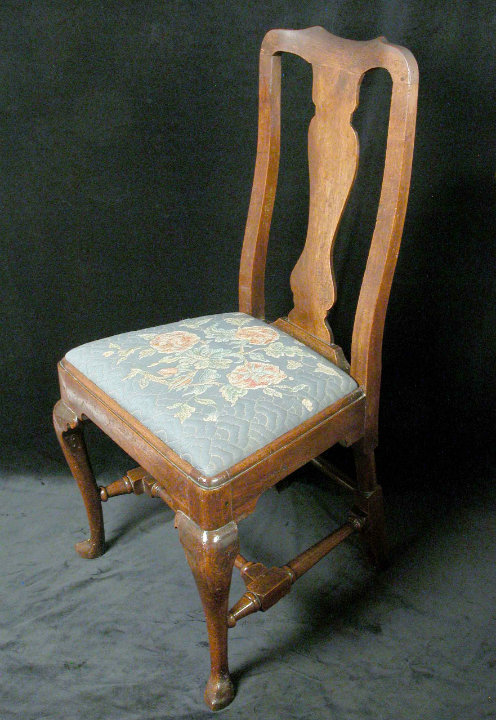 The National Trust's Furniture Research & Cataloguing Project, begun in October 2015, has already removed numerous misattributions to Chippendale and is working towards clarifying these descriptions, definitely attributing furniture to Chippendale only when there is supporting documentation and only tentatively attributing furniture to his workshops when several factors suggest that there is no alternative. 
The many, many pieces of furniture derived from designs published in Chippendale's pioneering Gentleman & Cabinet-Maker's Director – first published in 1754 and revised in 1762 and probably the principal reason that his name has endured – will be catalogued as 'after Chippendale' instead of 'by Chippendale'. 
There is a far larger category which was called 'Chippendale' because the great cabinet-maker and designer gave his name to a whole era of British furniture. Chippendale's career spanned the transition in England from the Rococo to neo-Classicism, encompassing along the way the English appetite for all things 'Chinese' as well as new attempts to revive the Gothic, and many different styles of furniture can be attributed to his workshop. Furniture incorporating Chinese-style lattice-work, or fretwork of any kind, is particularly given to Chippendale.
In the past the National Trust's inventory has sometimes misattributed furniture to Thomas Chippendale, his name accompanied by his dates, suggesting that he actually made the furniture himself.  Yet, Chippendale – who is thought to have employed approximately forty men in his workshop [1] – is very unlikely to have made furniture himself after establishing his workshop on St Martin's Lane and so the National Trust now attributes furniture to his firm, known as Chippendale & Rannie between 1754 and 1766 and Chippendale, Haig & Co. between 1770 and Chippendale's death in 1779.  Furniture made in the period between 1766 and 1770, when he is not known to have had a partner, is attributed to 'Thomas Chippendale' followed by the dates 1766-70.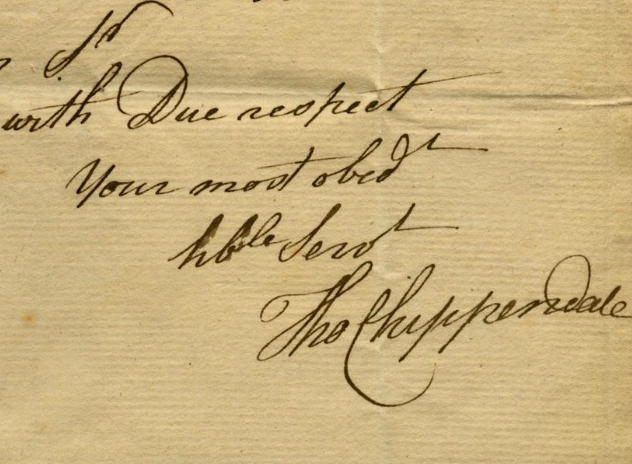 Timeline of Thomas Chippendale's life
5 June 1718
Baptised in Otley, Yorkshire, the son of carpenter and joiner John Chippendale and Mary, née Drake
circa 1735 - circa 1745
Probably apprenticed to Richard Wood (fl. 1726 – 72) of York
19 May 1748
Marries Catherine Redshaw (d. 1772) in Mayfair, London
April 1749
Eldest son Thomas Chippendale, Junior, born; another eight children are born to the couple before Catherine's death in 1772
December 1749 – Summer 1752
Resident in Northumberland Court off the Strand, London
Summer 1752 – December 1753
Resident in Conduit Court, off Long Acre, London
December 1753
Establishes his workshop in St Martin's Lane, London (later numbered 60, 61 & 62) where he and his family also lived
1754
The first edition of The Gentleman & Cabinet-Maker's Director published
1754 – 1766
Enters into partnership with the Scotsman James Rannie (d. 1766) the firm now called Chippendale & Rannie
April 1755
A fire breaks out in the St Martin's Lane workshop
1755 
The second (serialised) edition of The Gentleman & Cabinet-Maker's Director published
1762
The third (expanded) edition of The Gentleman & Cabinet-Maker's Director published
January 1766
Death of James Rannie 
1770
Enters into partnership with Thomas Haig (d. 1803), with Henry Ferguson as a probably silent partner, the firm now called Chippendale, Haig & Co.
August 1772
Death of Catherine Chippendale
August 1777
Marries Elizabeth Davis
November 1779
Death of Thomas Chippendale, aged sixty, his burial in the churchyard of St Martin-in-the-Fields in 13 November 1779
Notes
[1] C. Gilbert, The Life and Work of Thomas Chippendale (2 vols., London, 1978), Vol. I, p. 10.
Continue exploring the exhibition
Start from the beginning
05 Jun 2018