Attributing some of the chairs at Nostell Priory to Chippendale's workshop is straightforward, either because they are specifically referred to in surviving letters and accounts, or because they are very similar to other pieces which are known to have been supplied by Chippendale elsewhere. 
The provenance of other chairs in the collection is not so easy to establish.  For instance, despite the long-standing tradition that a set of sixteen simple mahogany backstools - chairs without arms - were supplied by Chippendale, a careful examination of the chairs, and a careful reading of surviving documentation, complicates this view.
There are only two references in surviving papers which could possibly correspond with such a long set of chairs, one in June 1766 and the other in October of the same year. [1]  Both are essentially the same, each listing a set of ten mahogany chairs and two matching armchairs at the same price: 

24th June 1766: '10 Mahogany parlour chairs cover'd with horse hair and double brass nail's…[£]12 10[s] 0[d]'
2 Mahogany elbow Chairs to match…[£]7 0[s] 0[d]'
9th October 1766: '10 mahogany parlour chairs the same as before…[£]12 10[s] 0[d]'
'2 Elbow chairs to match…[£]7 0[s] 0[d]'
On the basis of these two factors – the survival of a set of sixteen chairs at Nostell Priory, and the above entries – Christopher Gilbert speculated that 'there is a reasonable possibility that a large remnant of this set remains in the collection', and illustrated one of the backstools with the caption 'Parlour chair, one of twenty supplied in 1766 almost certainly for the dining room of Sir Rowland Winn's house in St James's Square'. [2]
However, new work on the invoices detailing Sir Rowland's purchases from Chippendale between 1766 and 1770 casts doubt on this view, [3] and it is clear that the accounts published first in 1968 (Boynton & Goodison) and subsequently in 1978 (Gilbert) reproduced a contemporary document which, in fact, conflated the account of items supplied to 11 St James's Square – purchased by Sir Rowland in 1766 – with a different account of items supplied to Nostell Priory. [4] It is now certain that most of the articles supplied during what we believe were the earliest years of Chippendale's work for the Winns were supplied to the London house, a group which includes these 'parlour chairs' and their accompanying 'elbow' chairs 'to match'.
It is notable that the account for goods made for the town house, describes the chairs slightly differently. [5] Thus, the entries against 24th June 1766 read:
'10 Mahogany Parlour Chairs the seats stuff'd and Cover'd with Haircloth & Double Brass nail'd'
'2 Mahogany French Armchairs to Match'
And the entry for 9th October 1766 reads:
'10 Mahogany Parlour Chairs same sort as before'
'2 French Armchairs to Match ditto'
The minor differences, such as the new detail that the chairs had 'stuff'd' seats, do not materially affect our understanding of what type of chairs these were, but the use of the term 'French' in this second list, instead of the term 'Elbow' used in the first list, to describe the accompanying pairs of armchairs, is significant.
As stated in the catalogue of the recent exhibition celebrating Chippendale at Leeds City Museum, 'in Chippendale's parlance a 'French' chair was an upholstered armchair with a shaped back and seat and cabriole legs (the latter known at the time as 'French feet').' [6] Indeed, the chairs supplied for Sabine Winn's Dressing Room were described as '10 Mahogany french armchairs', a type of chair that  doesn't resemble the long set of chairs extant at Nostell Priory. Given that the 'French' armchairs were made 'to match' the standard chairs without arms, the supposition must be that these entries refer to an entirely different set of chairs, with cabriole legs. It should be noted, however, that other cabinet-makers, at the same period did call this style of chair, with plain square-section legs enlivened only by a chamfer, and a back and seat entirely upholstered, as a French chair. In 1766, Gillows applied this term to a variety of mahogany-framed chairs with square-section legs. [7]
Moreover, it is by no means clear that these chairs ever left the London house for Nostell: one of the sets of ten chairs was sold in the auction of the contents of 11 St James's Square in 1785 after Sir Rowland's death. This group of ten, therefore, simply could not be part of the surviving long set of chairs at Nostell Priory. [8]
How, then, do we understand the sixteen chairs at Nostell Priory? A close examination of the chairs themselves shows that the set is not, in fact, a set at all. Minor differences in design aside – this might be expected when the chairs were made five months apart in 1766 – they are made of different materials: at least seven of the chairs are made of walnut, rather than the mahogany specified in surviving lists and bills (Figures 1 & 2).
The latter were also made entirely differently, without the open corner braces – typical of 18th century chair manufacture – that strengthen the joints between the seat rails of the mahogany chairs (Figure 3). And the walnut chairs are altogether more heavily made, made without any relieving chamfer or moulding to their legs, which taper more markedly than those on their mahogany counterparts (Figure 4). The latter may possibly have been made in the 19th century.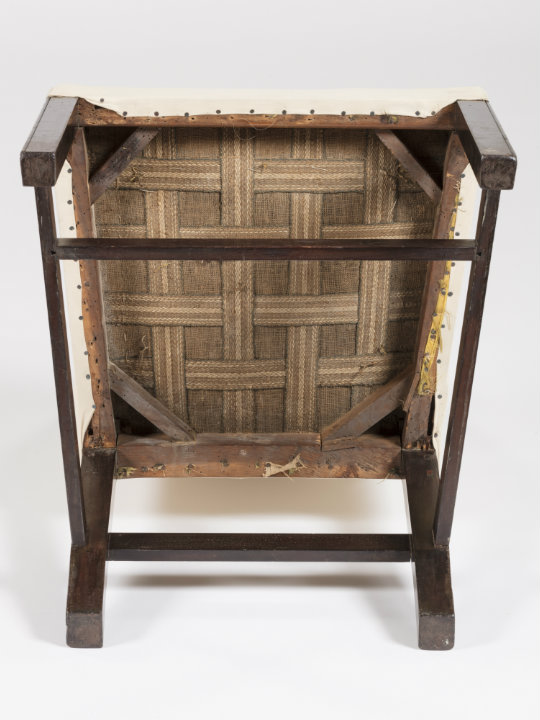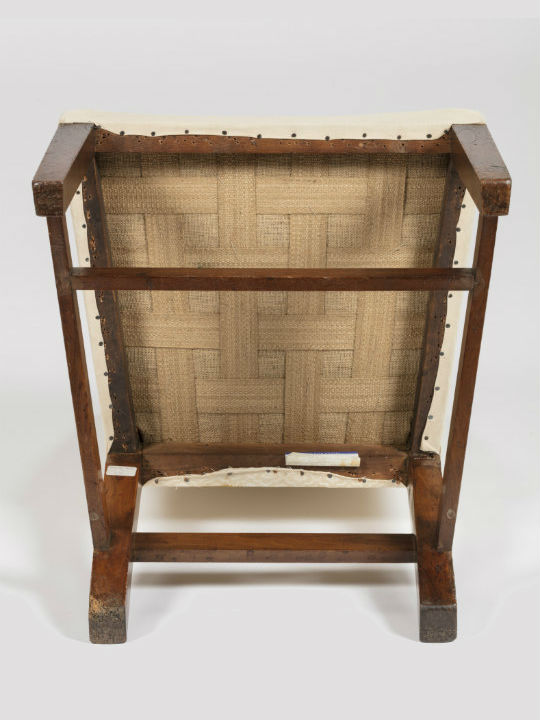 Could the mahogany chairs, however, in fact have been supplied by Chippendale, even if the walnut chairs were not? Their plainness and lack of distinguishing characteristics unfortunately makes them very difficult to trace in accounts and correspondence. Complicating the picture further, there are at least two different designs of mahogany chairs, the first type with a decorative moulded 'groove' running up the length of the outside corner of both front legs (Figure 5), the second type – like the walnut chairs - entirely without this embellishment (Figure 6).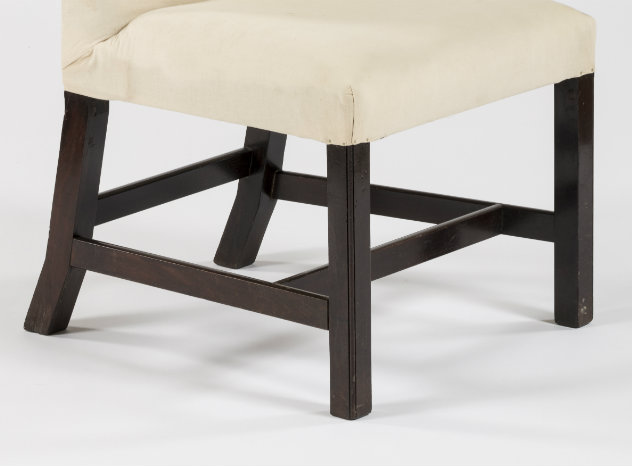 There are, therefore, as many as three different types of 'backstool' – mahogany with a moulding to the outer corners of the front legs, mahogany without a moulding to the outer corners of the front legs, and walnut without any embellishment to the legs – forming the set of sixteen chairs at Nostell Priory, long associated – if only tentatively – with the twenty-four matching chairs itemised in Chippendale's bills. 
There may, in fact, have been a fourth set. The famous double portrait of Sir Rowland and Sabine Winn was painted sometime between the delivery of the library table (which features so prominently in the painting) in 1767, and 1769 when the painter Hugh Douglas Hamilton (circa 1740 – 1808) submitted his bill. [9]  It was commissioned to hang in 11 St James's Square and pointedly includes the library table, indicating that the Winns were jusifiably proud of owning what was then a very expensive and luxurious piece: it is now one of the best known pieces of Chippendale's output to survive. Next to the desk, however, stands a chair, and it is surely not a leap to imagine that the chair was also new, supplied at roughly the same time as the library table. In form the chair closely resembles the surviving backstools at Nostell Priory, with a rectangular back and seat (covered here with a fringed green loose cover) and seemingly square-section timber legs.  Interestingly, both front legs are decorated with the moulding found on some of the chairs at Nostell.  Here, however, the moulding is not confined merely to the outer front corners of the front legs but, in fact, runs up both front corners (Figure 7). 
Artistic licence may, of course, have been involved in this rendering: another painting in the National Trust's collections by Hugh Douglas Hamilton shows a similar chair (Figure 8), suggesting that he may have kept one in his studio as a prop. The impression remains that the provenance of these chairs is very uncertain, and that more work needs to be done to establish whether or not they were supplied by Thomas Chippendale.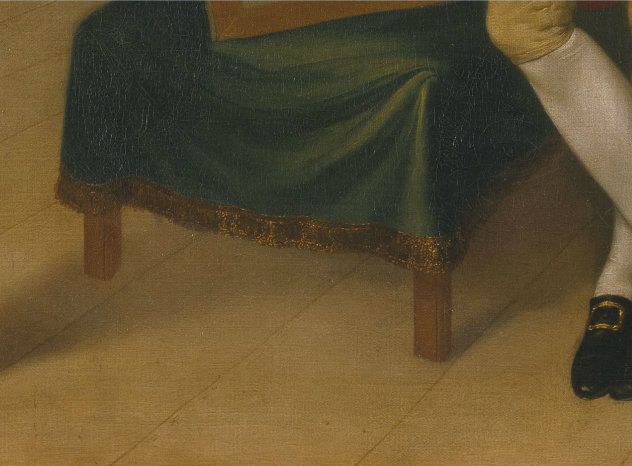 Notes
[1] L. Boynton & N. Goodison, 'Thomas Chippendale at Nostell Priory', in Furniture History 4 (1968), 40 and C. Gilbert, The Life and Work of Thomas Chippendale (2. vols, London, 1978), Vol. I, pp. 183 – 4. 
[2] Ibid., Vol. I, p. 174 and Vol. II, Figure 133.
[3] K. Bristol, 'A Tale of Two Sales: Sir Rowland Winn and No.11 St James's Square, London, 1766-1787', in History of Retailing and Consumption 2.1 (2016), 9 – 24, and see a forthcoming article in Furniture History, Vol. LIV (2018).
[4] As Gilbert's caption to one of these chairs shows (see Footnote 3), furniture historians were aware that some of the earlier pieces in accounts were made for the London house, but the separate list which itemised exactly which pieces does not seem to have been part of the Nostell Priory archive at that time. The reference for the dedicated 'town-house' list is West Yorkshire History Centre, WYW1352/3/3/1/5/3/63.
[5] The prices remain the same.
[6] A. Bowett & J. Lomax, Thomas Chippendale 1718 – 1779, A Celebration of British Craftsmanship and Design (2018), p. 44.
[7] S. Stuart, Gillows of Lancaster & London 1730 – 1840 (2 vols., London, 2008), Vol. I, pp. 139 – 141.
[8] K. Bristol, 'A Tale of Two Sales', 20.
[9] ibid., 3.
Continue exploring the exhibition
Start from the beginning
05 Jun 2018